Travels in Chennai
Chennai, formerly known as Madras, is the capital of the Indian state of Tamil Nadu. Located on the Coromandel Coast of the Bay of Bengal, Chennai has an estimated population of 7.5 million (2007), making it the fourth largest metropolitan city in India and one of the largest metropolitan areas in the world. You can get more information on Chennai at Wikipedia.
In 2008 we visited Chennai, India for 10 days. This was the first trip to India for my husband and myself. Our forefathers had come from India, to South Africa in the 1860's, but we have not traced my family roots as yet. My husband has been fortunate in tracing one family member who lives in Delhi.
As the purpose of this trip was business in Chennai, we had just a few days for touring. We decided to see as much of this city as possible. While in transit we toured Singapore for a few hours on both flights. This was interesting as well.
We rented a car from a local travel company in Chennai, Thiruvallavar Travels, that also provides a driver. Our young driver, was a very pleasant young man & a good guide and companion. His first name is Kannadasan. He spoke Tamil and knew some English. I do not speak Tamil and understand just a few words. My husband who is Tamil speaking enjoyed speaking the little Tamil that he does know. This together with body language, enabled us to get by.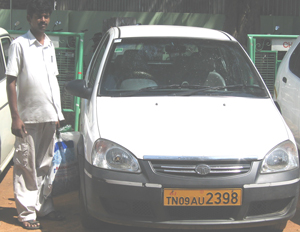 Our young driver, Kannadasan & the Hyundai diesel car that he drove
An outstanding feature for us, was the warmth of people everywhere. The hotel staff at Courtyard Marriott bent over backwards to make us comfortable and the kitchen staff spoiled us with all the attention and good food. The hotel does not recommend tipping, so such attention was genuine and not for the sake of any reward.
While on the road, our driver often asked others for directions. Each time this was done by addressing the other person as, brother. In turn they responded with respect and friendliness and helped our guide.
We were awed by the heavy traffic in Chennai. We often heard that this was not as bad as the traffic in Bombay. I can't imagine what that must be like!!. There were cars, motorbikes,trucks, buses, auto rickshaws & 2 wheelers that often carried 2 adults and 2 children. Not many folks used helmets. Sometime the passengers on the 2 wheelers carried the helmets in their hands. Our driver told us that the helmet sometimes blocks the view of the driver, and he believes, that that, is the reason they do not wear it.
The comments and pictures on this site reflect our experiences and are not meant to be critical or judgmental. We were disturbed by some aspects of hygiene especially in areas that were less developed. However I did make my feelings known to the manager of a huge, modern department store. I decided to take this step because everything about this store was lavish and I knew they had the means to make some changes.
For a store that was on 4 levels, and obviously had very high quality merchandise, there was 1 restroom for the ladies and 1 for the men. Both were in deplorable condition. Other large stores also had very poor restroom facilities but this was the worst for a store that was so grand in every other way. I talked to him respectfully and complimented him on his fine store and then told him that they should work on upgrading their restrooms. He took this in good spirit and said they would work on this. I am not sure whether there will be any changes as not many folks seem too upset about the restroom facilities.
In spite of these concerns, we enjoyed our trip and appreciated the history, culture, gentleness of the people, the artistry and cuisine of this region. We were disappointed that there were no classical Indian dance performances at the time that we were there. We did attend one Carnatic concert and saw a Tamil movie. The theater was in a large modern mall very much like those in the West.
As we wanted to see more authentic experiences we did not spend too much time at the modern built up malls. We did request permission to photograph the individuals that you see here. Here are a few pictures of street scenes.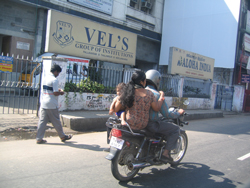 A family on a 2 wheeler or motorbike
We were amazed at how people negotiated their way through what seems a sea of traffic. Nobody seems to stay in their lanes, wherever there is a gap, one proceeds. I think if one hesitates one will never get ahead. The only thing that seemed to be respected and understood is honking or hooting. We saw signs on the back of vehicles that actually request, Sound Horn.
It is a way of informing the driver that he should be careful, or yield to the vehicle. So there is the sound of honking all around and nobody seems to be bothered by all of this.
On a few occasions we saw vehicles driving onto oncoming traffic.!! Our driver did not bat an eyelid and just moved so that the vehicle could proceed. We concluded that the drivers were attempting to make a U turn. It was just that they needed to drive a little further along, onto oncoming traffic before getting back on the right side.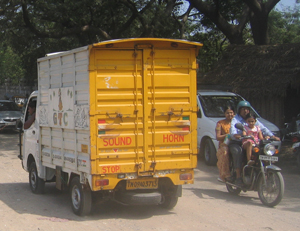 Note the words at the back of the vehicle: Sound Horn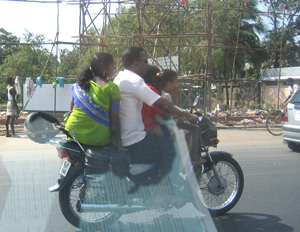 A family of 4 on a 2 wheeler. I was always fascinated by how comfortable the passengers looked. I once saw a child standing in front, nodding off to sleep!!
---
We also enjoyed the sites, shopping and the food which was delicious. Another interesting feature is that every town has street stalls in addition to the shops. Most vendors at the street stalls have food, clothing, haberdashery and all sorts of stuff at lower prices than the store. Many food stalls are located alongside the street as well. We found that modern high rise buildings, fancy stores and malls exist side by side with small stalls and hovels. Away from the heart of the city but just half an hour away, amidst street stalls, we saw rural scenes such as cows strolling down the street.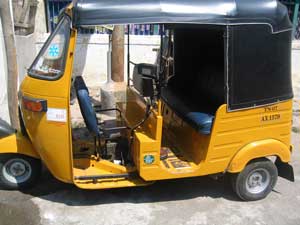 These auto rickshaws weave through traffic very skillfully. It was sometimes hair-raising to us!!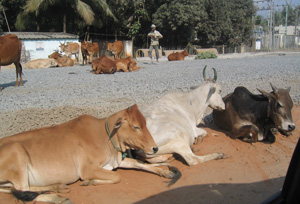 These cows were on the sidewalk on the old road to Mahabalipurram
---
Places we visited
Marina Beach
This is the second largest beach in the world with a large sandy shore. With such warm weather many people are at the beach in the evenings. Fishing is also very popular,evident by the number of fishing boats around. I just dipped my feet into the water as we were not dressed for swimming. It was beautifully warm. There are many food stalls on the shore as well as on the streets. The food stalls with attractive snacks looked really appetizing. However we refrained from buying food at the food stalls for fear of contamination. The temperatures were in the 80's and foods especially salads, exposed this way concerned us.
we were told that this is a favorite spot for tourists and locals. At night there is a festive atmosphere.
Government Museum
There are 6 independent buildings that house exhibits that are modern and historical. We visited the archaeological, anthropological collection and a collection of the Chola Bronzes. We were very impressed with the heritage of India. It was fascinating to see the quality of sculpture of a long ago time. There were coins, cutlery and a measure of weights which appeared to be highly sophisticated and precise. The collection included palaeolithic and neolithic tools, hammers, scrapers, bangles, beads amongst other artifacts.
Although the collection is so valuable, the present condition of the museum could do with some basic cleaning and dusting, in my opinion. For those who would like to know more about the historical collection here is a link, Government Museum Chennai
Valluvar Kottam
This is a temple chariot in honor of the Tamil poet and saint Thiruvalluvar who wrote the Thirukurral. These are rhyming couplets, honored by Jains and Tamils. It is thought to be one of the first work on ethics. It focuses on aspects of life. For details check the link, Valluvar Kottam
The chariot temple was constructed in 1976 in the heart of Chennai. The Thirukurral is inscribed on slabs of granite. The construction is quite interesting. However we were disappointed that the maintenance of such a valuable monument is sorely lacking. As we walked around viewing the granite slabs, we noticed dirt, cobwebs and water decay around the building and floors. Some of the scribes appeared to be tampered with as well. We saw no maintenance workers.
---
The monument houses the 4000 seater auditorium. The temple chariot is at the back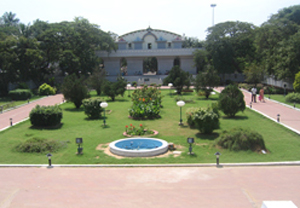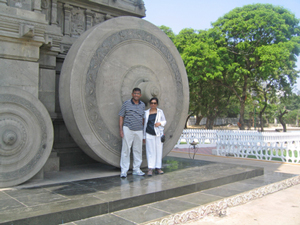 Nirmala & Indiran at the wheel of the chariot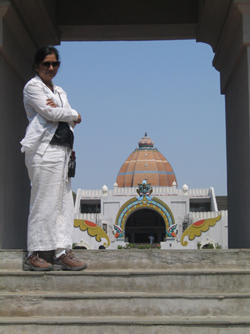 Nirmala at entrance to Valluvar Kottam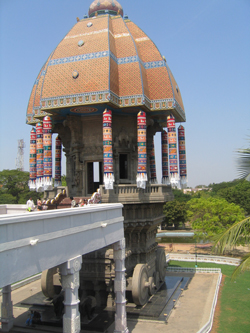 This memorial, a temple chariot was built in 1976 to honor the great saint poet, Thiruvallavar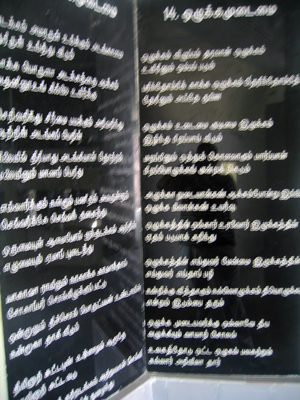 The Thirukullar imprinted onto granite slabs. 3 colors of granite demarcate different themes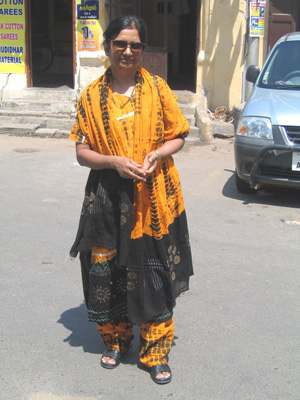 Nirmala outside Kapaleswarar Temple
---
Mamallapuram or Mahabalipuram
Along the old road to Mahabalipuram, you see modern high rise building as well as real primitive shack like buildings. You will also find the I.T. Corridor here, where many computer companies are located. Alongside the road there are stores of all varieties with goods hanging out on racks. We also saw cows alongside the street. The outstanding feature of this city, is the discovery by the British, of 7th century Pallava monuments cut from rock.
The main attraction is the Shore Temple, amongst 4 other monuments and a cave. As it is right on the shore there are attempts to preserve these sculptures from destruction by wind and salt from the sea. Over time many of the other structures disintegrated. The ruins still stand here. It was quite amazing to see the workmanship of these monuments existing from such a far of time.
We were concerned about whether enough is being done to preserve these priceless sculptures. When we visited, there were school kids who were climbing all over the sculptures and rocks and treated this as any other rock to climb. Nobody said a word to these kids. It seemed sad and strange to me to allow such boisterousness on and near these exquisite sculptures.
Mamallapuram is also know for resorts and stores with beautiful clothing, shawls,and crafts made from from marble, stone, granite and metals.
---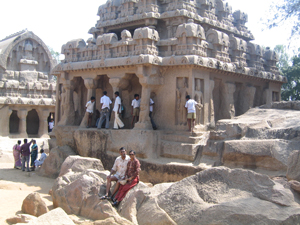 Nirmala & Indiran at Mahabalipuram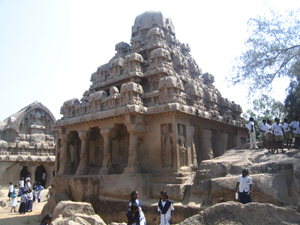 The Pallava structure called Five Ratha's Arjuna's Penance, from the 7th century, carved out of solid rock.
---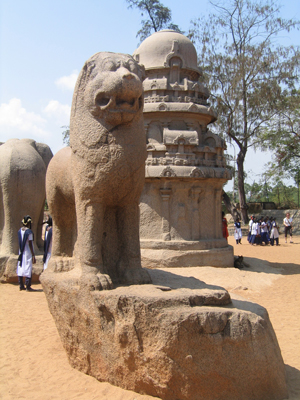 The rock from which this Lion sculpture was hewn is very evident.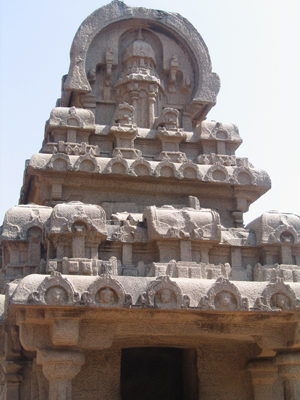 Details of the sculpture. Amazing to see this carved out of solid rock.
---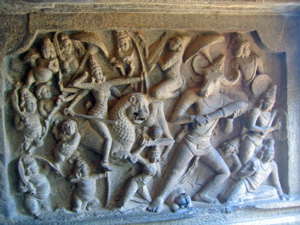 A close up of the detailed decorative sculptures.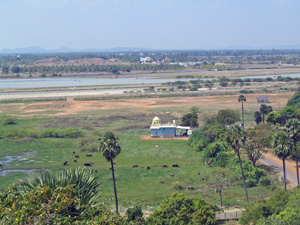 A view of the landscape around Mamallapurram.
---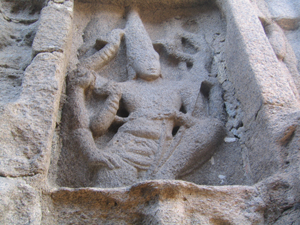 Details of a sculpture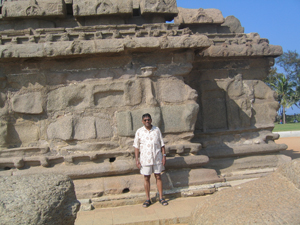 Indiran at Mamallapuram Shore Temple
---
The Kapaleeshwarar Temple
This is an 8th century Pallava temple. It's towers are in the Dravidian style of architecture. It houses bronze idols of 63 Saivite saints amongst other deities. We just photographed the outside as photography is not allowed inside the temple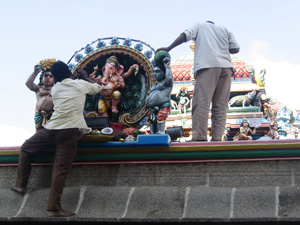 Maintenance work on the sculptures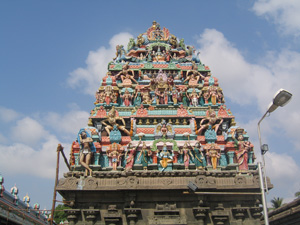 The Tower
Street Scene
These pictures reflect our experiences at T. Nagar, Pondicherry and other cities in and around Chennai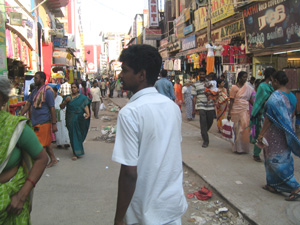 Our driver is in the white outfit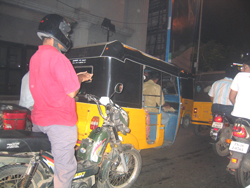 Some vehicles on the street.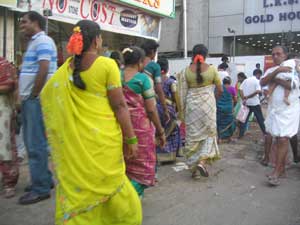 Most ladies wear fresh flowers in their hair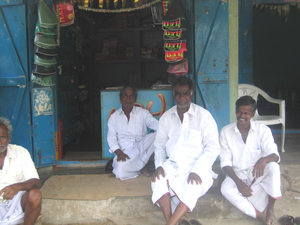 Relaxing while waiting for business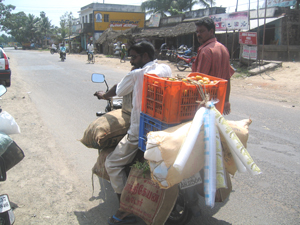 Delivery Bike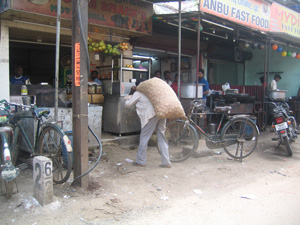 Wow that is a heavy load!!
---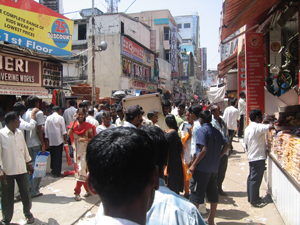 More shopping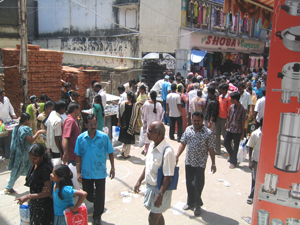 Shopping day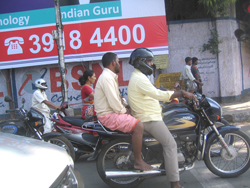 Two wheeler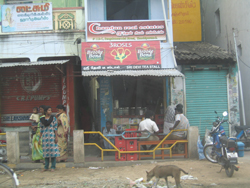 Street scene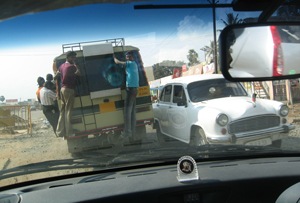 This picture was taken from our car. These boys enjoyed performing for us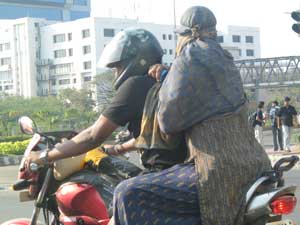 This lady is protecting herself from the wind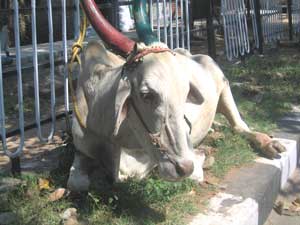 A cow on the sidewalk tethered to a fence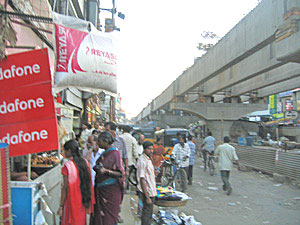 A street scene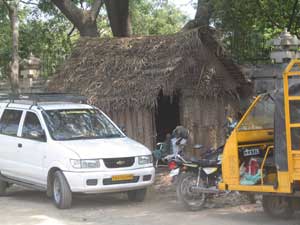 a shack like home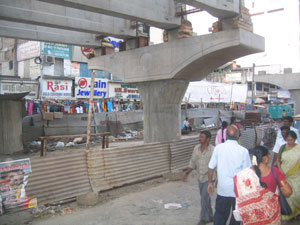 Litter on street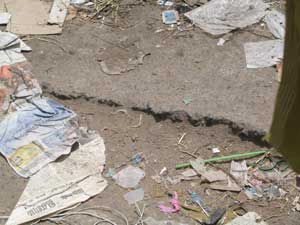 Trash nearby shopping area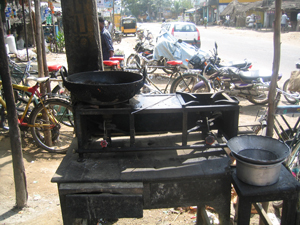 Cooking utensils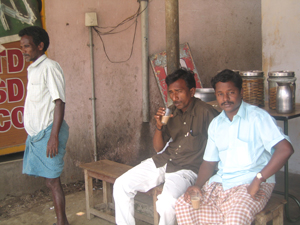 Taking a tea break
---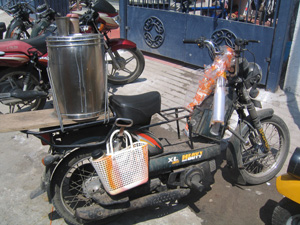 a coffee delivery bike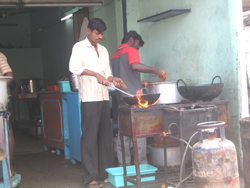 Something yummy is being prepared
---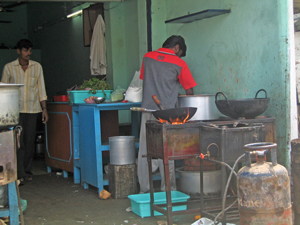 Busy Cooking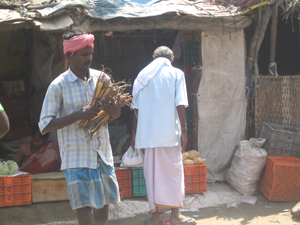 Preparing supplies
---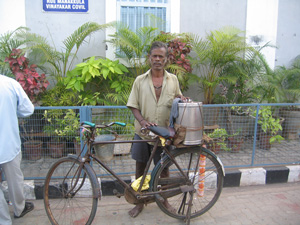 Delicious, Refreshing Tea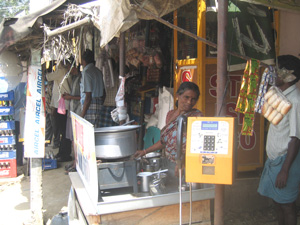 A food stall
---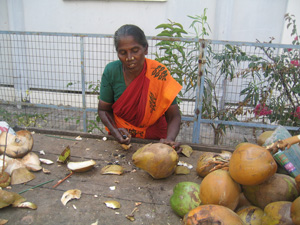 Preparing coconut drinks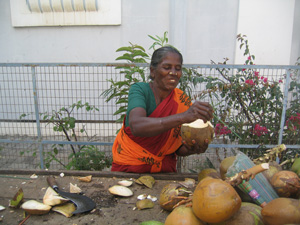 Althought I tried the coconut drink from this vendor, I did not enjoy it. I think the coconut was not quite ripe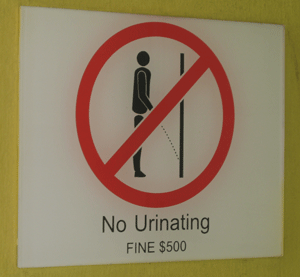 A warning sign in Singapore
---
Shopping
I love shopping generally, but here, there were so many interesting items. These included fabrics, saris, Indian traditional outfits, bridal wear, jewelry and so much more. Another thing I loved was, the string of flowers that women used in their hair. It is a common sight to see vendors alongside the streets stringing flowers like jasmine and other aromatic flowers into garlands that can then be pinned into the hair. It really adds a feminine touch. As ladies passed by I caught whiffs of this really beautiful scent of jasmine. I tried it as well, unfortunately I do not have any good pictures of it.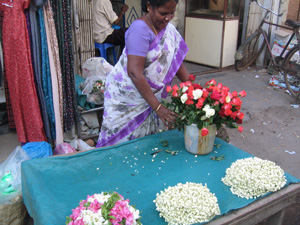 Flower stall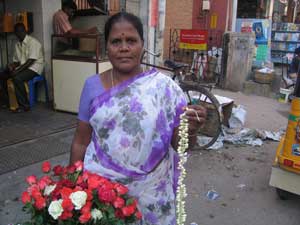 Jasmine garlands for the hair. These are cut as the customer requires

A close up of ladies with fresh flowers in their hair.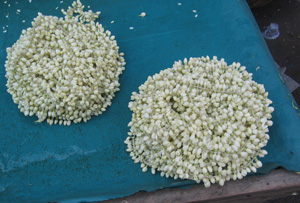 Long strands of garlands in a circle ready to be cut for the customer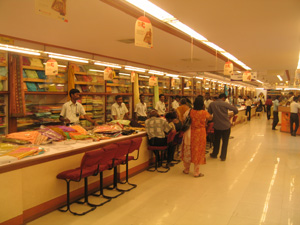 upscale boutique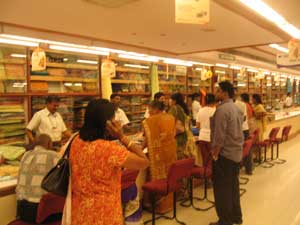 Another view of the boutique
---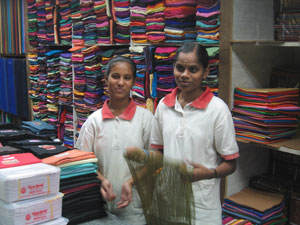 friendly shop assistants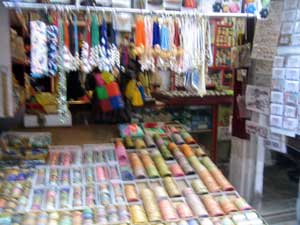 A large selection of bangles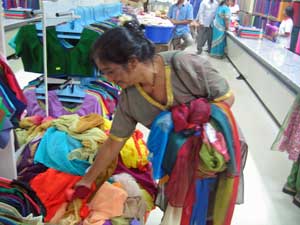 I love bargains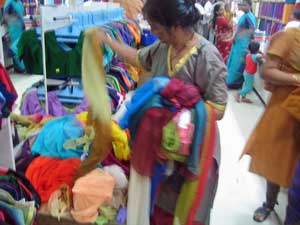 I want to get them all. The blending of colors on these scarves are so beautiful
---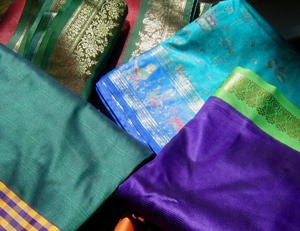 The color combinations and fabrics are wonderful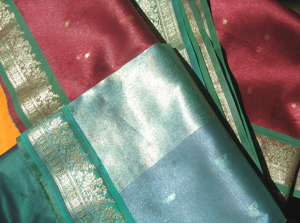 more saris
---
Kanjeepurram
This city is renowned for it's silk saris. It was our first day out and our driver, Kannadasan took us to this store and showed us the sites around the city. Lots of people temples, stores and sari boutiques galore. This store was very small and not interesting from the outside. However there are beautiful saris to be found there. The owner has a workshop with a loom where saris are made. We were taken to view this process. The punch card system is still being used to create the patterns. The men and women who handle this are very precise and thorough in their work.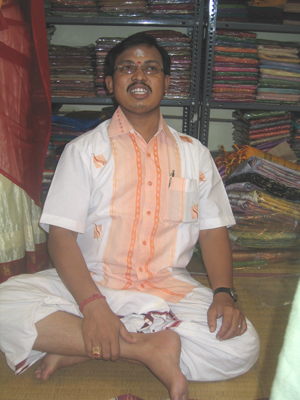 The owner of this small store displays his wares on a little sort podium where the saris are shown in all their glory. His assistants are always on hand to carefully fold them again.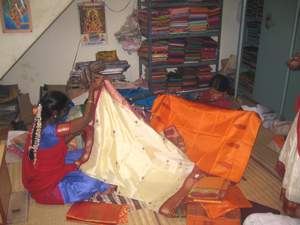 The assistants. Note the flower in the hair of one of the young ladies.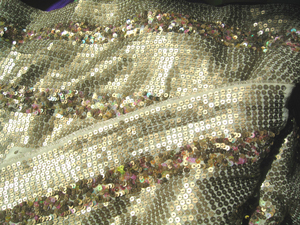 Another sari.
---
How to Reach me
Share your travel experiences with me, Nirmala, via email at:
pather@qualitylivingstyles.com
You can also reach me via The Contact Form.
---
Now quickly and easily navigate to your next destination.
---